Thanksgiving Day Prayer
Loving God,
Who created and sustains the universe, who loved us all into being, and who gives us every good thing, we thank you for the blessings that you bring into our lives.
We thank you for the gift of life itself, which you gave us in our mothers' wombs.
We thank you for the fresh start of each new day, which is a sign of your renewing and creative love.
And we thank you for our friends, our families, our neighbors and our coworkers, whose human love is an image of your divine care.
Increase our gratitude this Thanksgiving Day, and help us to recognize all the good things that we have, both large and small.
And magnify our desire to share what we have with others, so that they too may be grateful to you, loving God.
Amen.
The Mass of the New Evangelization
It's Coming...
The Mass of the New Evangelization
Beginning the First Sunday of Advent:
November 29, 2015
5:00 p.m.
Pro-Life
Pro-Family
Pro-Beauty
Pro-Truth
Columbian Squires and Roses want YOUR Shoes!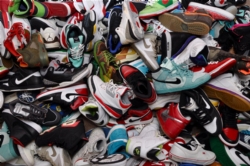 Donate your used shoes to support Columbian Squires and Roses charity events and scholarships.

What? Donate any used heels, boots, sneakers, slippers, and sandals in any condition.

Where? You can place your donated shoes in the curbside bins, at the main office, or at Mrs. Andrie's & Dr. Dever's office.

When? The Squires and Roses are accepting donations until December 11th.

The charitable organization, Angel Bins, recycles the shoes and the money raised will fund charities such as Nothing But Nets and religious vocations as well as scholarships for Mary Star of the Sea High School seniors.

THE 2015 GOAL IS 2000 SHOES.

Holy Trinity Advent/Christmas Concert
The Holy Trinity Music Ministry will present an Advent/Christmas Concert on Friday, December 11th at 7:30pm at Holy Trinity church.


Please click on this link to view the flyer.
Our Lady of Guadalupe Events
DECEMBER 11, 2015:
8:30-9:00 p.m.: Rosary in Auditorium
9:00 – 10:00 p.m.: Folkloric Group Dancers (kids) and free small reception in auditorium.
DECEMBER 12, 2015:
5:00 -6:00 a.m.: Mananitas to Our Lady of Guadalupe with Mariachis
6:00-7:00 a.m.: Mass with Mariachis
7:00 a.m.- 'til ??: Free Reception in Auditorium
Mass Intentions Book 2016!
Our Mass Book for 2016 will open November 2nd on a first-come first-serve basis. We ask for ONLY TWO MASS INTENTIONS PER FAMILY please.
To schedule your Mass intentions, please arrive to the parish office (870 W. 8th St., San Pedro). Questions? Please contact that office at (310) 833-3541.

Weekly Holy Hour
"In order to convert America and save the World what we need is for every parish to come before Jesus in the Blessed Sacraments in Holy Hour of prayer." ~Blessed Mother Teresa. Every Wednesday there is a Holy Hour in the church from 6-7 pm. Within the hour, there is a rosary with beautiful reflections, time for silent reflection, and the Chaplet of Divine Mercy, concluding with Benediction. Please come and spend 1 hour with Jesus. This is a special time of abundant blessings for all!

Stained Glass Window Protection
We'd like to thank all those who have graciously and generously donated towards our Stained Glass Window Protection project! Small windows cost $2,000 and larger windows cost $4,000 to keep safe. Whoever would like to donate in helping maintain our church stained glass windows safe for future generations, please contact Josephine Frka at (310) 833-3541. Thank you in advance for your generosity.

Sacraments for Adults
A number of adults have been gathering for the past three weeks to learn more about the Catholic faith in preparation for full initiation into the Catholic Church at Easter time. Some of them will be baptized for the first time and also receive the sacraments of Eucharist and Confirmation, while others who have been baptized already will make a profession of faith in the Catholic Church and receive the sacraments of Eucharist and Confirmation.

If you are unbaptized or have been baptized in another faith and you wish to join us, you may still do so by calling Sister Mary at (310) 833-3541 ext. 222.

Mary Star Preschool News


Registration is now full and CLOSED for the 2015-2016 school year. Registration is now OPEN for the 2016-2017 school year for 3-5 year olds who are fully potty trained. Our preschool program is year round, part time and full time. Come on over and take a tour! No appointments necessary!

We have a safe environment with qualified, caring teachers who instruct faith development and age appropriate hands-on activities in Creative Art, Kindergarten Readiness, Math Concepts, Science Exploration, Multicultural Exposure, Music/ Movement Activities, Dramatic Play, Outdoor Activities and Character Development.

For more information about our preschool program, please call (310) 833-3541 ext. 228 and ask for Beth Castagnola, Director, email at MaryStarPreschool@gmail.com or visit www.marystarelementary.com/for_parents/preschool.

Families of Nazareth Faith Sharing Group
Please join us as we search for a deeper relationship with God, developing our "interior" life and understanding the Blessed Mother's role in our faith journey. We meet in the Msgr. Gallagher Parish Center Chapel on Saturday mornings from 9-10am, to pray and share our faith journey. Adults only. For information, please contact: Holly Oldenburg 310 547- 3507.

Together in Mission

Goal: $84,000.00

Amount pledged: $96,804.00

Amount Paid: $83,214.00

To Be Paid: $786.00

Volunteers Needed!



Our Christian Care is in need of volunteers to hand out lunches on Wednesdays, Thursdays, and Fridays from 11 am — 12:15 pm. For more information or if you are interested in lending a helping hand, please contact either Rick or Pat at (310) 832-7913.





New Website Manager
Please note, we have a NEW website manager. If you are a Parish community or group member who requires future changes/additions to your particular web page on our Parish website, please feel free to contact Michael Munn at MMunn@marystar.org.